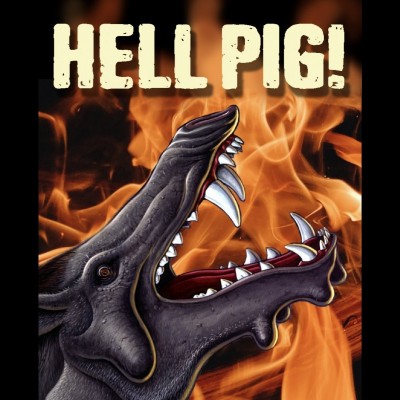 "Hell Pig"
Written and performed by the Ratfish Wranglers
(Lyrics by Ray Troll and Russel Wodehouse; Music, vocals, guitar by Russell Wodehouse; Backing vocals by Stephen Jackson and Ashley Bylar; Lead guitar by Arne Tollfeldt)
© 2009Troll/Wodehouse
It's a river of blood
Flowing down through the mud.
Stand before the ancient beast
Gorging on his putrid feast
of flesh.
Rip the victim asunder
Hear the roar of their thunder
Creature of the cloven hoof
Standing like the devils proof
of hell.
CHORUS:
Archaeotherium- Nightmare or delirium?
Devastate, annihilate helping me to mitigate time.
Archeotherium- Apex of oblivion
Digging in the badlands, take a chance
and guess what I find?
HELL PIG!!
Make sure you say your prayers
when you step into his lair
Bones are strewn all about
There's no one left to hear you shout
oh no
Hear the wail and the moans
as he grinds on your bones
Burning in the smoke and flame
So it goes this bloody game
of life
If that's a little too rockin', check out the "ballad" version:
Stream the whole Cruisin' the Fossil Freeway album on Spotify!