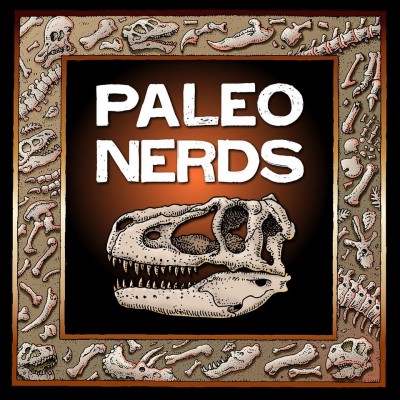 Reviews
"Along with the interviews, the shows include humor, sound effects, music, and more to help keep the podcasts energetic and convey the message that learning about science can be fun."
- David James, Anchorage Daily News
"This discussion of deep time is as approachable and amusing as it is informative. It's a paleo party full of dinosaur dad-jokes, fossil facts and anecdotes."
- Adriana Janovich, Washington State Magazine
"A podcast that's as mind-altering as it is entertaining."
- Michael Feeney Callan, Writer/Filmmaker/Cultural Historian
"Thoughtful conversations on the wonders of paleontology and the profound meaningfulness of evolution."
- Jan Merker, Artsitic Fuel
D 907 Hupp, 05/21/2021
Great Podcast
Paleo Nerds is one of the best podcasts I have listened to! The hosts are engaging and the guests are brilliant. They make the subject exciting. I keep looking forward to the next episode!
PaigeAK, 05/08/2021
My favorite podcast!
Yes, I am a paleo nerd! I learn something new with every episode. Awesome guests, and so fun to listen to these guys nerd out. I laugh every time I hear the mispronunciation/"wrong again" buzzer. So relatable! Thanks for making a great show, Ray and Dave. I'm a huge fan!
loose_mule, 03/27/2021
I never was a paleo nerd, but...
...this amazing podcast is not just about paleontology! There's a lot of that, and their topics and guest experts have all been great. However, these guys are so eclectic both within and beyond biology that there is something for anybody who has any kind of interest in the natural world. Their knowledge is rock solid, and I always learn something. I'm such a happy listener!
dudesleepyjoe, 03/23/2021
Great podcast for those that love fossils!
I am a Paleo Nerd and I love this podcast! They have great guest and dive into each subject at just the right amount to keep it interesting without needing a PHD. I've always been a fan of Ray's art and books and Dave adds humor and ask the questions that we are all afraid to ask. Thanks for getting me through the pandemic!
Shreevebooks, 03/03/2021
Fantastic blasts from the past!
This terrific podcast series will widen your horizons, make you laugh, and fill you in on the fascinating history of Planet Earth. Listen while you're driving, cooking, hanging out—each episode is informative and fun, with technical terms explained and a sense of wonder coming through from both hosts.
Rick from Denver, 01/30/2021
The PaleoNerds Make Ancient Life Fun For Everyone!
This is a great podcast weaving entertainment and humor with the fascinating world of paleontology. It's obvious that Ray and Dave are PaleoNerds that love learning about ancient life adding to their extensive knowledge of the subject. Through the podcast I feel like I know them well and would love to share an Alaska Amber on the dock in Ketchikan some day! But the real fun starts when they interview other Nerds who are super excited about their science and are anxious to share. The questions allow the listener to get to know the guests and Ray and Dave guide us through each guest's nerdiness while providing current research and state of the science. They always wrap up with some standard questions that I am always anxious to hear how these scientists will answer - what is their favorite fossil/find and how do we promote science - the answers from the guests are always thoughtful and informative. Thanks Ray and Dave for putting this together and I look forward to many more!
rational idealist, 01/09/2021
Wonderful podcast!
I am so happy to see Paleonerds season two!

Thank you for making this!
truesdalefamily, 10/28/2020
Deep time fun!
If you enjoy Ray Troll's work as an artist, you'll love the podcast. The guests have been terrific and I'm learning so much. Ray and Dave are funny, curious, and enthusiastic about deep time. One of my favorite podcasts by far!
shaunalee65, 07/24/2020
Scientifically sound with a dash of humor
OK, perhaps more than a dash! Loved this entertaining show, the hosts are not only scientifically well versed, they are also warm and engaging. The second episode with Dr. Johnson from the Smithsonian is a home run! Can't wait for the next episode. Cool music too!
Lunchbox Larry99, 07/23/2020
A geologist loves it!
Really well done, a great piece of work!
stevealtman, 07/22/2020
Great Podcast
Luckily for me I'm a bit of a nerd myself. But nothing! Nothing like these guys! I thought I knew my shyte but Dave and Ray have opened my eyes to the unprecedented amount of information that has been gleaned over the last hundred years especially. And the fact that they're both so eloquent in their description of all things past, their knowledge of every era, and their humor makes this podcast a revelation. Thanks boys,I hope these podcasts are able to be found a million years from now.
Press
Anchorage Daily News, April 2021
Washington State Magazine, February 2021
Ketchikan Daily News, July 18th, 2020