09/22/2021
Episode #45 The Coastal Fossil Finder with Kent Gibson
While installing his Cruisin' the Fossil Coastline exhibit at the Oregon Coast Aquarium, Ray had a chance to sit down with Kent Gibson who lent a very small fraction of his massive collection of coastal fossils to Ray's exhibit.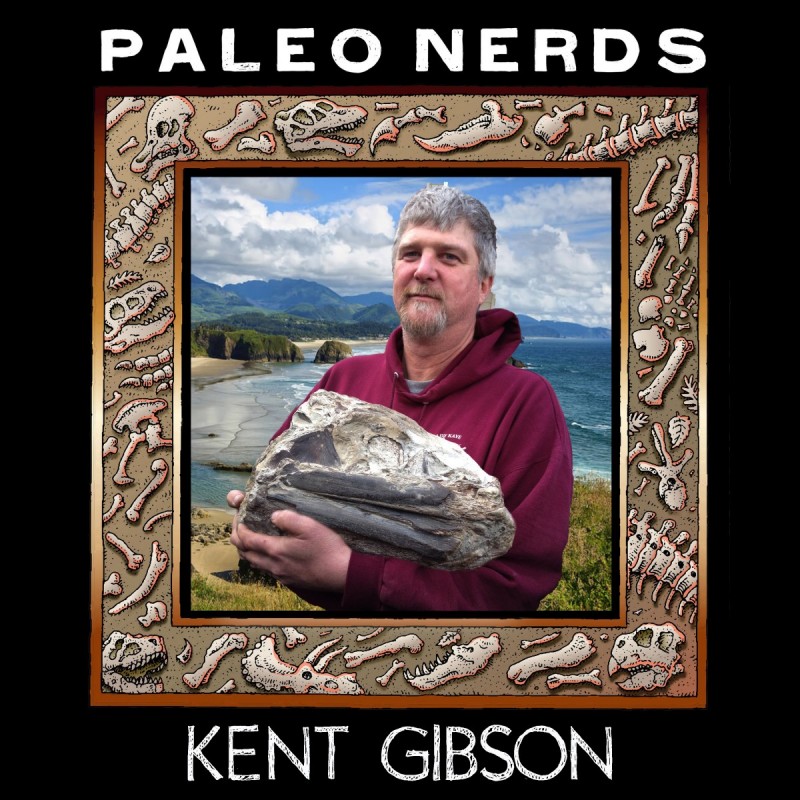 Kent Gibson
Harbor Master, Fossil Collector and Preparator
Although Kent did get an A- on his report on dinosaurs in 4th grade, he wasn't much of a Paleo Nerd until his dog Bart picked up a rock that stared right back at Kent! This fossil porpoise skull is now on display at the Smithsonian. That was in 1996 and Kent has not stopped collecting fossils since. In 2021 alone he's collected over 600 bones, so you can really only imagine how many fossils Kent has collected over the last 24 years.
Ray met Kent in 2010, 12 years into his fossil obsession when Kent's wife Lucy encouraged him to load up his truck with some of his finds and head to Ray's lecture with
Kirk Johnson
on their collaborative book
Cruisin' the Fossil Freeway
. Kent waited patiently for the rest of the Paleo Nerds to disperse before he could lure the pair out to his truck to show off his marlin skull.
When he's combing the beaches of the Oregon Coast, Kent looks for brown bones in the grey rocks from the
Astoria Formation
. Kent collects fossils from public beaches, preps them himself and alerts the academic authorities if he finds anything of scientific importance. Kent often uses the hive-mind of social media to identify his finds, posting images on
Facebook
where experts (and amateurs) chime in to help Kent figure out if he should ship the specimen off to a museum.
Paleo(Art!) News: